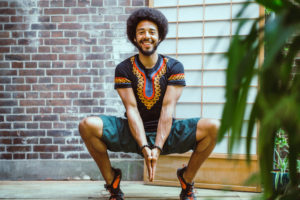 For Kuda, sports was always a way of expressing his heart and connecting with others
whilst having fun.
He learned a unique holistic training method, unique in the sense that this trainer had developed this method himself.
It was a blend of ancient training and healing methods, like yoga, various martial-arts forms, but also Gymnastics, all woven together
in a very creative well thought through form, a.k.a the "All In One" training.
By now Kuda has pursued his passion for movement and the knowledge of the spiritual world. He has added new definitions to curtain movement
principles and created his own form of training, with a little more play, and a lot more Kuda.
"He hopes he has triggered your interested enough, to come and experience a class with him"