ART INTERVIEW:  Helena Arturaleza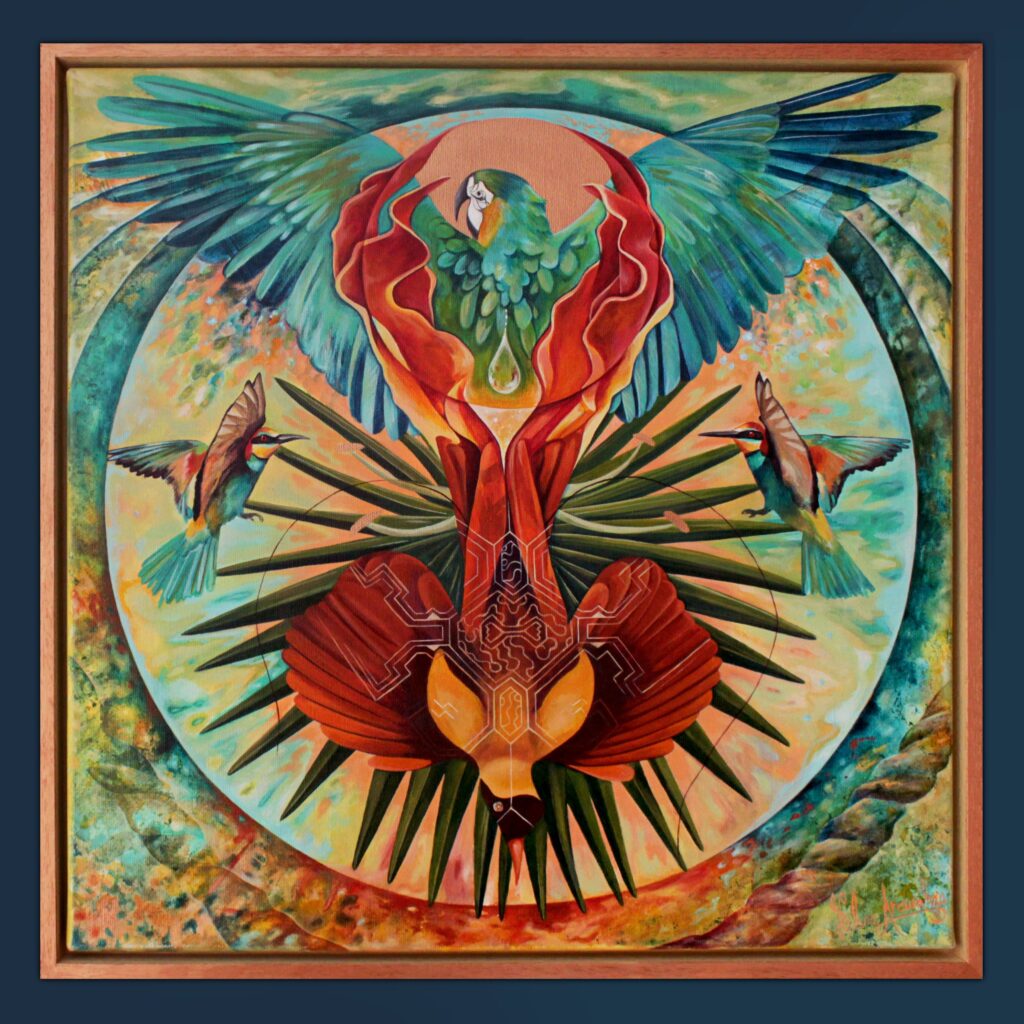 Vibrant visions of human beings, animals, nature and universal symbols, all engaged in a mesmerizing dance. If you have ever visited Mahara, you surely have encountered one of the beautiful artworks by Helena Arturaleza. Her paintings seem to be very alive, tobreathe even, and show the inseparable connections between humans and the earth. We visited Helena in her studio in Amsterdam Oost, where we talked about receiving downloads, dancing paintbrushes, transcending perfectionism and about creating art as a way of sending prayer into the world. 

Hi Helena, can you tell us a bit about your journey and how you became an artist?
I come from an artistic family and was always surrounded by music. Because my grandmother gave classes in the local community centre, I started drawing when I was 7. In my teens, I dropped out of high school because I didn't feel inspired… When I was 19 years old, in my final year of my studies Art and Design , as an internship I started giving art classes to the years below me. On the side, I received my first commissions. That is where it all really started. By then, I realized I didn't want to be influenced too much by going to art school, so I started traveling the world as my teacher. While travelling, I painted a lot of murals. I also travelled with my then boyfriend from Chile. We did a lot of murals together and traded art and prints for everything: medicine, clothing, trying to trade as much as possible, so we could travel very cheap.
During one of my travels I was hitchhiking to a rainbow gathering and ended up at the wrong address, in a strange self-built community. Which in turn accidentally connected me to the Vienna Academy of Visionary Art, where I studied in 2017. This is where my painting really took a flight. The Academy offered a surrounding to be really focussed and to be stimulated by other artists, by being together in this creative bubble. My time there helped me to bring through the biggest pieces I have made so far.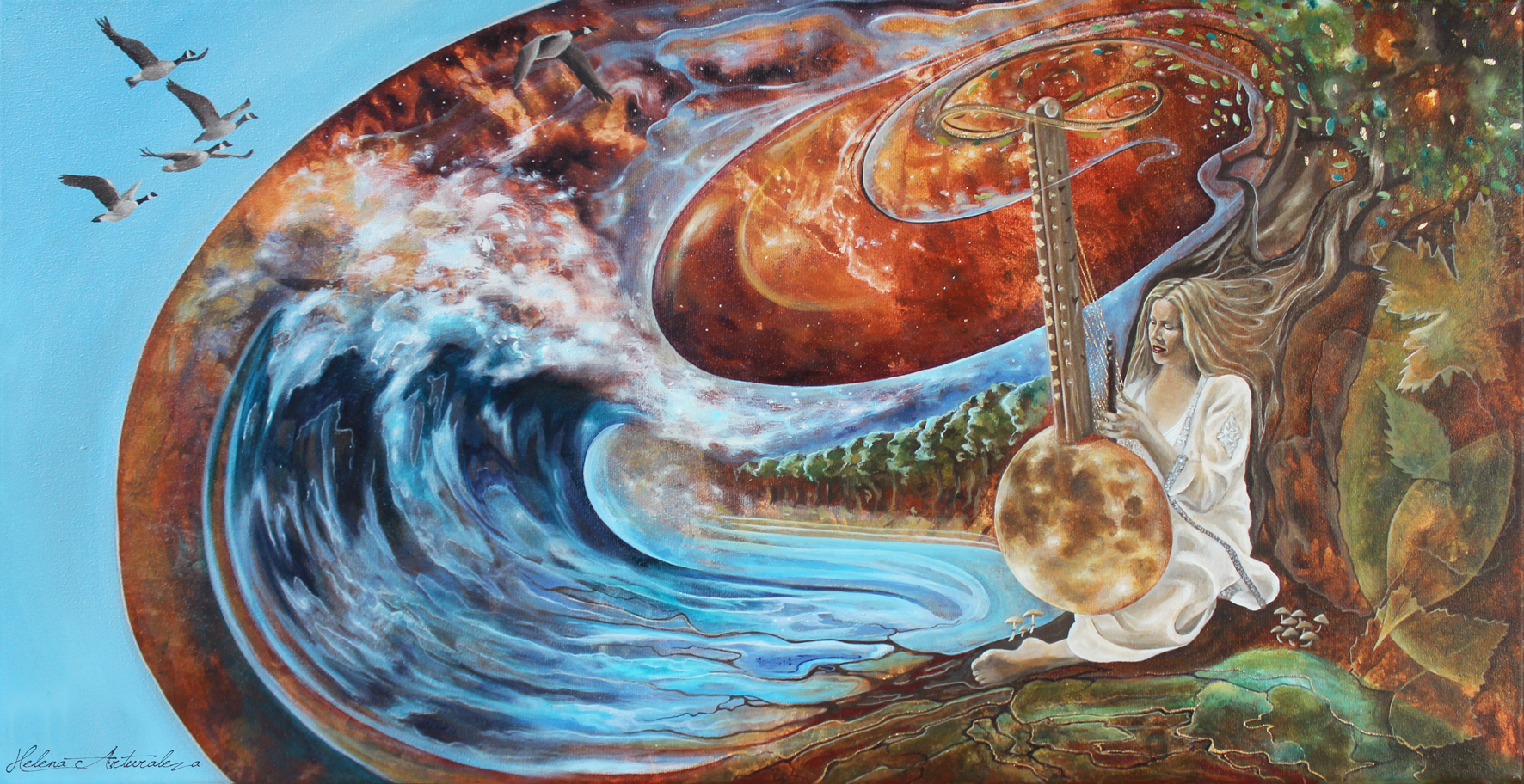 Your work is often characterized as 'Visionary Art'. Can you explain what that is? And how does it translate into your work?
My work is called 'Visionary' because I receive my inspiration by seeing visions that communicate a message. Before, I got stronger visions, more of a download. Right now I am in a period, where I mostly receive inspiration through color or textures. It is always changing and sometimes I even feel like having an overload of inspiration. I just need time and focus to bring it all through. 
Most of my inspiration is received through movement, especially on the dance floor or when I am just biking through Amsterdam. When I am moving and just relaxing my mind. I feel that when I dance, I connect to a higher power that comes through me, giving me the inspiration to make art. So basically I am able in the dance to let myself move out of the way and let the energy flow through me. I also dance with my hands. To me, dancing and making art  is very much connected towards each other, because I literally let my brush dance over the canvas.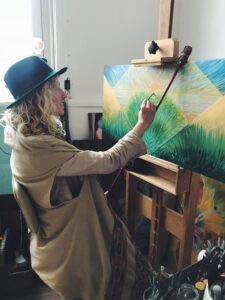 What are important lessons you take from making your art? 
What I experience a lot is the lesson to be patient. Because sometimes paintings take much longer than intended. I get easily distracted, that is also one of my challenges. So letting go of time is such a big lesson. To come into this zone of timelessness; knowing that as soon as I bring this artwork to the world, it is timeless. So it doesn't matter in how many years it is created.
Another thing is my perfectionism. It has brought me very far, but is also standing in my way (editor's note.: Helena is a triple Virgo!). Last year, I lost my passion for art entirely.  As I was going through heavy processes, I hardly created any art for a year.
How did you break through this? 
By doing a lot of shadow work. I went to a Moon Dance ceremony with other women. We came together to pray for Mother Earth and humanity, to do a ceremonial dance, while fasting for four days and nights. During these four days and nights, I prayed to become passionate again. I had doubts about being a painter for a time, and wondered how it would be if I focused more on music. 
 But somehow, my intention and dedication is always going back to the art. The visions are with me, they want to be brought to the world. Making art sometimes means going for it, even when I am not experiencing the joy in it. Other times, it means allowing myself to do the little fun things, just doodling and drawing or doing a ritual in nature. The challenge is to continuously come back to making it joyful and to really enjoying and loving what I do. Also, I use art as a way to mediate. I think painting is a really beautiful way to bring forth prayers. And to really connect to prayers with intention while painting. So if I paint water, I do it consciously; thinking of crystal clear waters and of a healthy earth.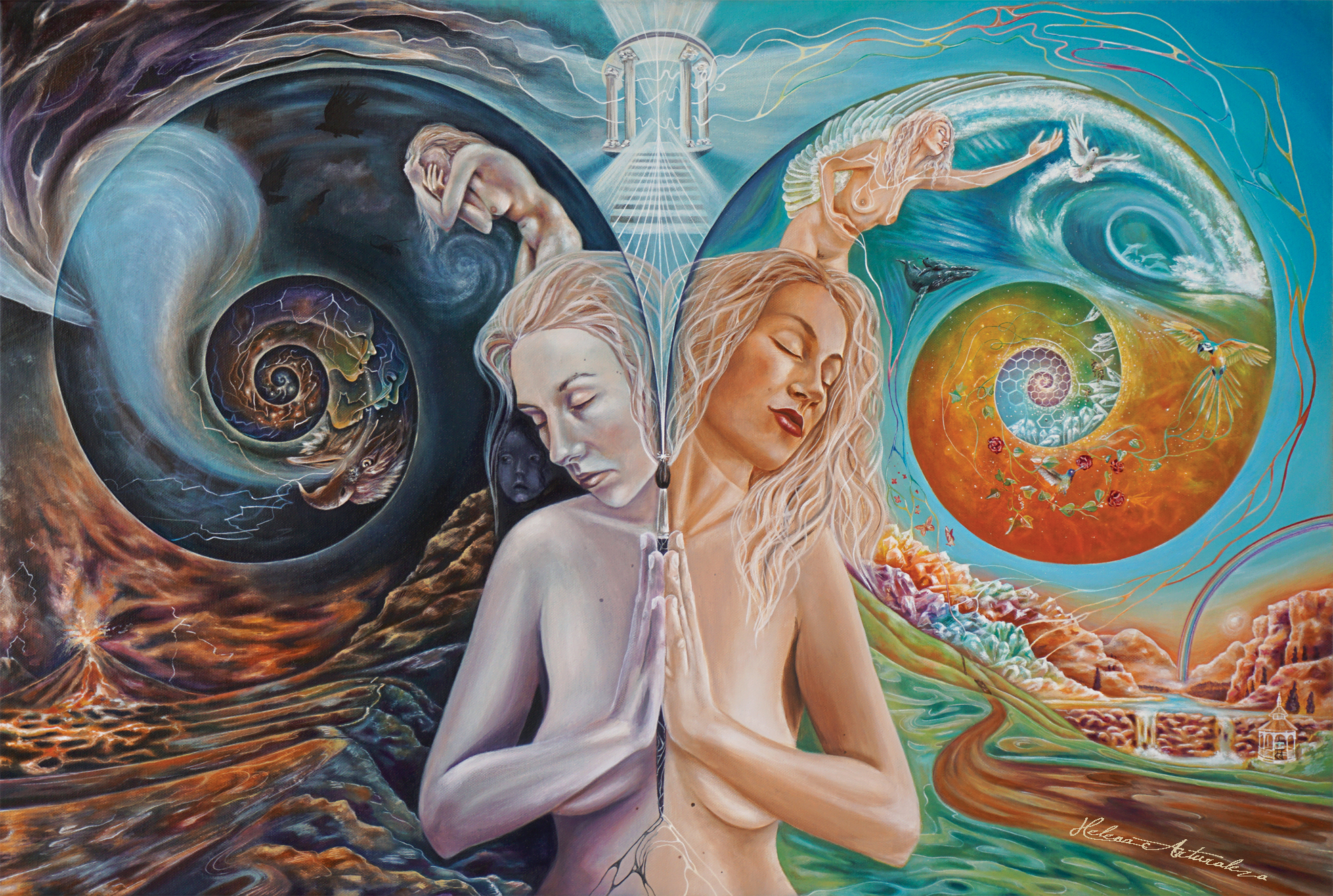 For example, when I was painting Transcending Beyond Duality, I really had to go through the grief in order to paint the grief. The same goes for the beauty and joy. The more in tune I am with myself and with life, the better I am able to explain the true vision that is behind this painting verbally. 
I use my canvas as a mirror. So when I am not in contact with myself, when it is not flowing freely, I go into meditation within myself and I go to what presents itself. So that I can reconnect and open my channel. Painting is an important way for me to reflect on where I'm at. In this way painting is a spiritual practice, to work through blockages.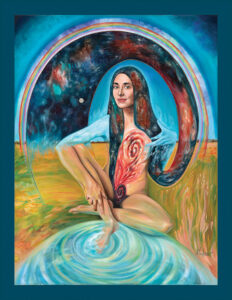 How do you see your role as an artist? / What do you hope to inspire in people with your work?
What I like to bring to the world, through my paintings, is the interconnectedness between humans on earth, between the different nations and between humankind and nature. Each painting carries a certain emotion. What I like to do as well in this time, is to make art that is valuable for the world that we live in right now. By making an artwork that is topical for this moment.
 What I think weneed right now, is that we can stay positive. Even in a time when things are difficult. I think it is a very potential time for artists right now, because there is a lot of opportunity to focus. We can focus more on making art, because the world is in lockdown. I am trying to invest this time as much in my art as possible, when the world opens up again I will have a lot of work to share.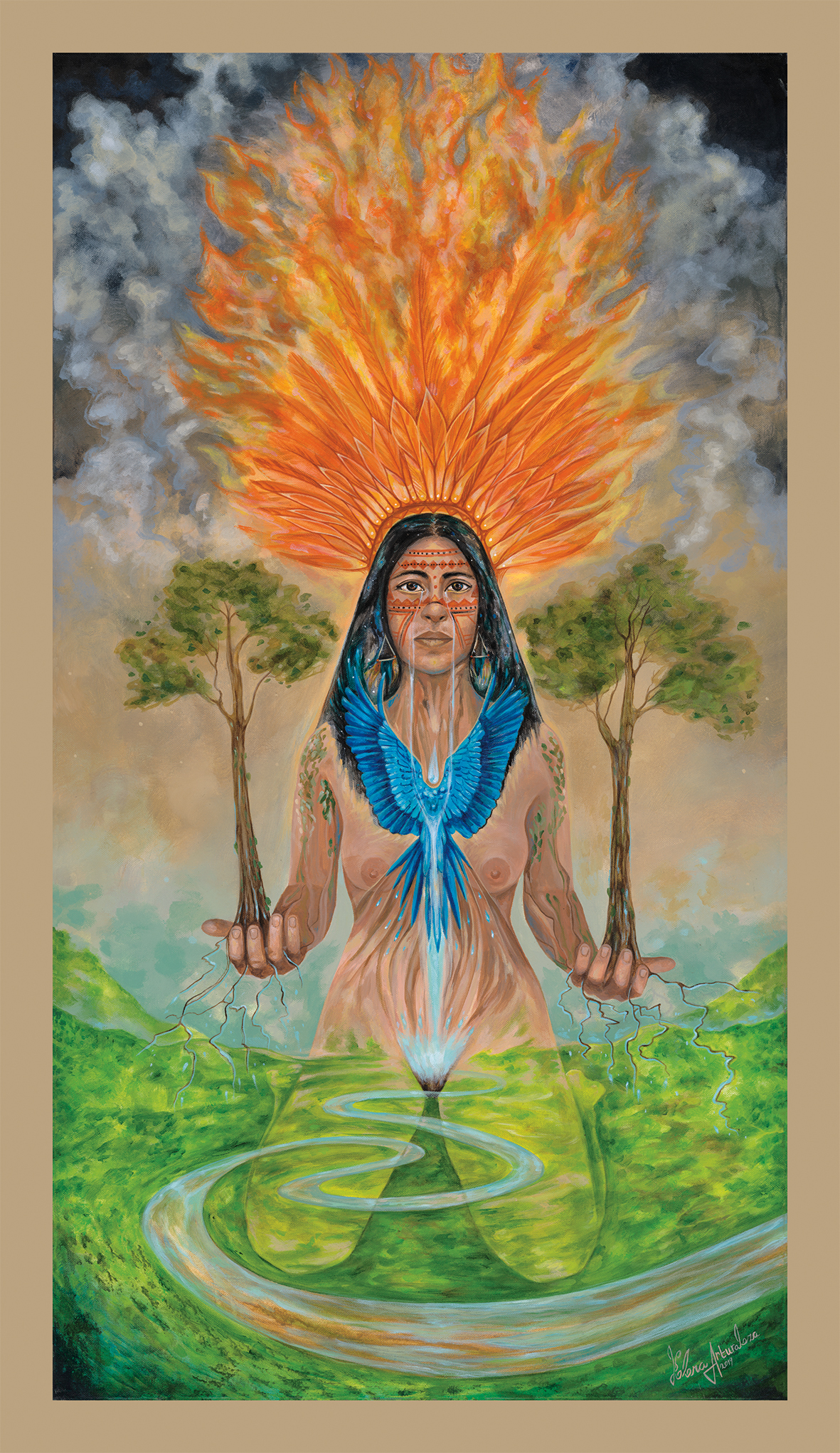 What is your dream project for the future? 
Something I like to do in the next few months is to make a really big painting to express what is happening at this time. And then I have several dream projects for the future. I would love to travel again to do projects with children in third world countries; to create and dance and play and sing together. I would like to explore more with music and to record some songs.
 Another dream ofme is to make retreats that combine all the forms of expression together. To guide people in using self expression as a transformational tool, using dance, art and music to open to the vision. And finally, I'm dreaming of living in an artist community. It could be in Portugal, Ibiza, Switzerland, Sweden or Australia.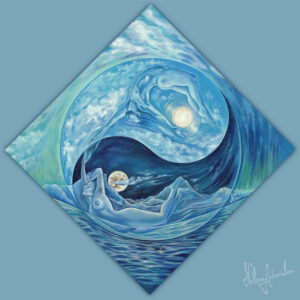 To see more of Helena's work:
https://arturaleza.art/
https://www.instagram.com/helena_arturaleza/